Sunday 8: 17 pm.
ATLAS OF YORK: TOUGH TIPPER TRAILERS AT A LOW PRICE

A tough and durable 3500Kg tipper trailer - that's the Atlas
We know that you want a piece of kit that is up to the job and will last. The Atlas Tipper is this and much more. Our rugged trailer has a tough galvanised body and frame manufactured to the BS EN ISO 1461 1999 standard. All ancilliary parts such as the braking system (by Knott Avonride) and the 1800Kg solid beam axles are the best on the market. The Atlas will last and last.
Easy to use tipper trailer ram
The remote tipping switch operates a powerful motor via the onboard, heavy duty battery. A manual backup system ensures that you're never caught out.
NEW - PVC COVER FOR THE ATLAS TIPPER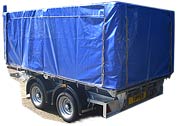 We are pleased to announce that we now supply a purpose made cover for our standard high sided tipping trailer. The cover is designed to be a snug fit so that it does not flap and has a rear end panel and side panels allowing access. See our accessories page for more details.
A tipping trailer that has many roles
Use the Atlas as a flat bed trailer with loading ramps for transporting vehicles and machinery, as a box trailer with or without steel mesh sides and load partitions, and then as a high-sided trailer for waste collection, materials delivery, estate maintenance etc. As a general purpose trailer, a plant trailer, a landscaping trailer or a heavy tipper, the Atlas is ready for the task.
And all this from just £3250 + vat.
A tipper trailer of this quality from one of our major competitors would cost you around £3995. Atlas owners have acquired a finely made, extra durable and versatile trailer from just £3250 plus vat. You really can have the best for less.
Visit Atlas in Full Sutton - York
Arrange a visit to our distribution centre in Yorkshire
If you like to see just how tough and versatile the Atlas tipper is, call or email to arrange a visit. You won't be disappointed - this is a great piece of equipment at a great price.
Atlas Trailers are convenient for towns in Yorkshire and surrounding counties.